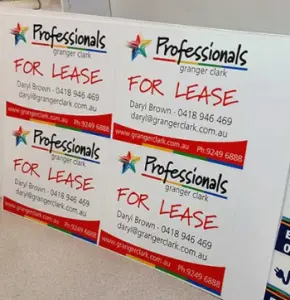 corflute signs are the perfect choice for clients that need a cost ­effective, easy signage solution with a quick turnaround and flexible design.

The most obvious benefits of corflute signage is that it is the most economical option for businesses on a light budget or those who need to print in bulk, but do not want to sacrifice high print quality.

Corflute board, are a popular short-term outdoor and long-term indoor solution. with weather-proofing that protects the sign to maintain its condition for up to a couple of years.

Unlike other low price printing solutions, corflute signs are very customisable. Signs can be printed and cut to custom sizes and shapes under 1,00mm x 1100mm a, well with a range of finishing options.